This is an archived article and the information in the article may be outdated. Please look at the time stamp on the story to see when it was last updated.
Two mothers and four children were killed and two men were seriously injured Tuesday morning when a minivan that was rear-ended by a big rig erupted in flames on the southbound 5 Freeway in Gorman, according to the California Highway Patrol.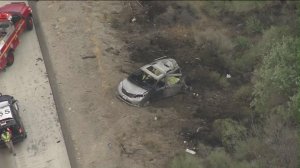 Firefighters responded shortly after 3:30 a.m. to a report of a traffic collision with occupants trapped, said Capt. Ken Rens of the Los Angeles County Fire Department.
They arrived to find six people deceased inside the minivan, which had been pushed off the highway by the big rig, according to the captain.
The crash site was just south of the Gorman School Road off-ramp, in the unincorporated community at the northwest edge of the county.
In an interview with the Los Angeles Times, Fire Capt. Keith Mora recounted a horrific scene.
"I can't even describe it," Mora said. "You pull up and see the victims inside — it's heartbreaking."
Two other people got out of the van on their own and were airlifted to a Henry Mayo Newhall Hospital in Valencia, the Fire Department said. The survivors were the fathers for each family, said CHP Officer Monica Posada. Both suffered burns and other injuries.
The men were identified by the Associated Press as 34-year-old Aaron Hon Wing Ng of San Francisco and 45-year-old Wei Xiong Li of Daly City.
The ages of the victims was not immediately known, according to CHP Officer Frank Romero, who noted that two car seats were inside the minivan.
"With a tragedy of this magnitude, our only goal right now is to gather the evidence and document this collision properly," CHP Sgt. Jimmy Beeson said.
The incident was preceded by a less-serious crash involving the van and a BMW, Romero said, adding that those two drivers exited their vehicles to examine the damage and call 911.
After it was struck by the big rig, the minivan rolled down the embankment with its driver-side door jammed, Romero said. The two fathers tried to rescue their family members through the sliding door on the passenger side but the flames were too intense.
The fire spread to nearby brush and burned less than a quarter of an acre, according to the Fire Department.
Aerial video from Sky5 showed the burned-out minivan on an embankment just off the freeway. The big rig was parked on the right shoulder nearby.
The minivan was rented Monday evening in Daly City, in the San Francisco Bay Area, its license plate revealed.
The drivers of the truck and the BMW were uninjured and remained at the scene, the Highway Patrol said.
No arrests were made or citations issued.