This is an archived article and the information in the article may be outdated. Please look at the time stamp on the story to see when it was last updated.
Five people were injured and taken for emergency treatment after a car crashed into a house in South Los Angeles Friday evening, causing the home's porch to collapse, the Los Angeles Fire Department said in an alert.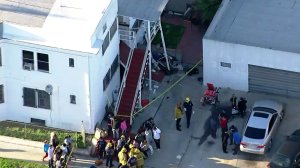 The incident, which occurred in the 4600 block of South Wall Street, was reported at about 5:19 p.m., officials said. Initially, fire officials said there were 6 people being treated after the crash but later said there was actually a total of 10 possible patients. Of those 10, five injured people were transported to medical care while the other five declined treatment.
The five people taken for treatment include three women, a man and a girl, fire officials said, without releasing further details about their identities.
Information about the nature of the victims' injuries has not yet been released by fire officials.
Sky5 video showed a stairwell on the damaged building broken in different areas, with pieces of debris strewn about below it as some apparent victims were carried away on stretchers and investigators looked through the scene.
Check back for updates to this developing story.