This is an archived article and the information in the article may be outdated. Please look at the time stamp on the story to see when it was last updated.
Six months after he allegedly killed his cousin and then a Whittier police officer, a Los Angeles felon and alleged gang member appeared in court Monday to enter a not guilty plea.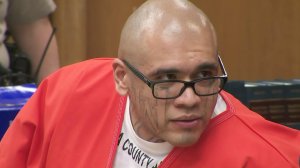 Michael Christopher Mejia, 26, appeared in court in Norwalk, where he pleaded not guilty to two counts of murder and one count each of attempted murder, carjacking and possession of a firearm by a felon.
Mejia is accused of fatally shooting his 47-year-old cousin, Roy Torres, in East Los Angeles on Feb. 20. He allegedly stole Torres' vehicle, crashing it into two other vehicles in Whittier. When police officers responded to the crash, Mejia allegedly pulled out a handgun and fired at them.
Whittier Police Department Officer Keith Boyer, 53, was killed. Another officer, Patrick Hazell, was wounded.
Boyer was a veteran of the Whittier Police Department, and the chief there called him "the best of the best."
Testimony at a June preliminary hearing indicated the last entry in Boyer's notebook was "Michael Mejia, 1191, Winter Gardens," a reference to Mejia's gang, the Whittier Daily News reported.
At the hearing Monday, Mejia looked around at those in the courtroom. He responded politely to the judge when asked about a date for his next appearance, saying "Yes, your honor."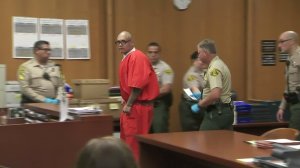 He wore glasses and an orange jail jumpsuit, with tattoos on his face and neck showing. His hands were cuffed to a chain around his hips.
Mejia was in June ordered to stand trial. His arraignment last month was delayed to Monday.
After Mejia's plea was entered in a brief exchange, his attorney asked the judge about the conditions of his client's jail housing, saying Mejia was not able to receive calls or visits. The judge directed the attorney to file a motion, and prosecutors indicated the Los Angeles County Sheriff's Department would need to be notified as the department had asked for Mejia's housing conditions.
Mejia had been released from state prison less than a year before the February shooting and was on probation. Days before the shooting, he served a 10-day jail sentence for violating the terms of his release, one of five such jail stays for the same violation, according to the Los Angeles Times.
He was convicted of grand theft auto in 2014 and second-degree robbery in 2010.
Authorities described him as a "known gang member" at the time of his arrest. The criminal complaint against him includes a gang allegation.
If convicted as charged, Mejia faces life in prison or the death penalty; prosecutors have not said if they'll seek the death penalty.
He is due back in court for a pre-trial hearing on Sept. 7.