This is an archived article and the information in the article may be outdated. Please look at the time stamp on the story to see when it was last updated.
President Donald Trump awarded 12 Americans the Medal of Valor Tuesday, including six heroes who responded to the 2015 San Bernardino shooting.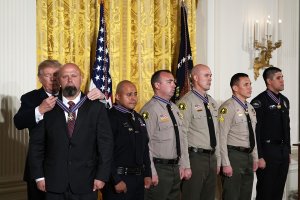 Trump heralded the recipients for their service and sacrifice before awarding them the medal, the highest possible decoration for bravery by public safety officers.
"Through your service and sacrifice we're reminded that America's greatest treasure is her people and in your courage, we see America's strength and in your character, we see America's soul and today one proud nations says to all of you, thank you," Trump said from the East Room of the White House.
Among the recipients were six responders to the 2015 San Bernardino workplace shooting that took 14 lives: Deputy Shaun Wallen, Corporal Rafael Ixco, Detective Bruce Southworth, District Attorney Investigator Chad Johnson, Officer Nicholas Koahou and Detective Brian Olvera.
"When terrorists attacked defenseless employees of the San Bernardino Department of Public Health, six of the heroes with us today chased them down and put an end to their sinister rampage which was going to get a lot worse," Trump said.
Trump honored the officials days after visiting Broward County to honor the victims and first responders of the deadly school shooting last Wednesday in Parkland, Florida.
Others honored included police chief Douglas Schroeder for life-saving actions during a workplace shooting, Lt. William Buchanan and EMT Sean Ochsenbein who saved a man from a burning vehicle and Harbor Patrol Officer David Poirier Jr. who rescued three people from drowning at a California beach.
Trump previously awarded the Medal of Valor to the first responders to the congressional baseball shooting last July outside Washington, which left GOP House Majority Whip Steve Scalise critically injured and several others hurt.
Here's the full list of recipients honored for exhibiting "great courage and unwavering dedication to serving our country:"
Deputy Shaun Wallen, San Bernardino County Sheriff's Department (California) — 11 years of service
Corporal Rafael Ixco, San Bernardino County Sheriff's Department (California) — 20 years of service
Detective Bruce Southworth, San Bernardino County Sheriff's Department (California) — seven years of service
District Attorney Investigator Chad Johnson, San Bernardino County District Attorney's Office (California) — 17 years of service
Officer Nicholas Koahou, Redlands Police Department (California) — 10 years of service
Detective Brian Olvera, San Bernardino Police Department (California) — 13 years of service
Chief Douglas Schroeder, Hesston Police Department (Kansas) — 21 years of service
Emergency Medical Technician Sean Ochsenbein, Putnam County Rescue Squad (Tennessee) — 10 years of service
Lieutenant William Buchanan, Avery County Sheriff's Office (North Carolina) — 21 years of service
Firefighter/Harbor Patrol Officer David Poirier Jr., Redondo Beach Fire Department (California) – 25 years of service
Officer Andrew Hopfensperger Jr., Antigo Police Department (Wisconsin) — nine years of service
Engineer Stephen Gunn, Peoria Fire-Medical Department (Arizona) — 12 years of service