This is an archived article and the information in the article may be outdated. Please look at the time stamp on the story to see when it was last updated.
The Los Angeles Dodgers will have many fans rooting for them when they play in the World Series for their first championship in 29 years, but a young girl undergoing treatment for Leukemia at a local hospital will be among their biggest.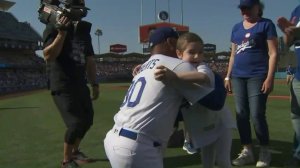 Elysa Shapiro, the young Dodgers superfan, said she screamed with joy Thursday night when her favorite team had made it to the World Series, their first in nearly three decades.
The 6-year-old has been huge Dodgers fan her entire life thanks to her family, but she has also forged a special bond with the Boys in Blue after being diagnosed with cancer last year.
A week after her diagnosis in July 2016, Elysa was hospitalized at Cedars-Sinai Medical Center. During that first month, she was visited by several Dodgers players, including Joc Pederson and — her favorite — Enrique Hernandez.
"The whole world feels upside down and all of a sudden, your heroes walk in the room, and as a family, we just felt so pumped up," recalled Howard Shapiro, Elysa's father.
Pederson and Hernandez even convinced her to get out of her hospital bed for the first time, as they held her hands and offered words of encouragement while they walked with her to the playroom.
"I was a little scared because I never met a Dodger before," Elysa told KTLA Friday night. "It meant a lot to me. It's like making a new friend who could help me through everything."
After completing the first year of her cancer treatment this past July, Elysa got the thrill of her young life when the team invited her to throw out the honorary first pitch at a game in Dodger Stadium.
During her visit, the overjoyed youngster also got to do her best Vin Scully impression when she announced his signature line over the stadium's public address system — "It's time for Dodger baseball!"
Since then, the friendship with the players has only continued to grow, with Hernandez even going to visit the family's home to hang out with Elysa.
"He's like my adopted big brother," she said.
Elysa is still undergoing chemotherapy, but she doesn't plan on missing a single World Series game. She even has tickets to Game 2 and is excited to root the team on, saying, "It's time for Dodgers World Series baseball!"
The Dodgers will take on either the New York Yankees or Houston Astros in Game 1 of the World Series at Dodger Stadium next Tuesday.