This is an archived article and the information in the article may be outdated. Please look at the time stamp on the story to see when it was last updated.
An investigation continued Monday after a 6-six-year-old girl was killed and her father was wounded in a shooting at a home in Moreno Valley, authorities said.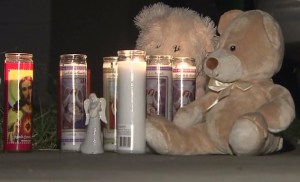 Tiana Ricks, of Victorville, and her father, 26-year-old Tyrell Ricks Jr., were among the party guests Sunday at a house in the 25000 block of Harker Lane, witnesses said.
The victims and others were reportedly standing in the driveway about 9:45 p.m. when two men walked up to them, asked a question and then opened fire.
Tiana was transported to Riverside County Regional Medical Center, where she later succumbed to her injuries.
Tyrell Ricks was also hospitalized and was listed in stable condition Sunday.
A motive in the shooting was not immediately known, police said.
Anyone with information regarding the case was urged to contact the Riverside County Sheriff's Homicide Unit at (951) 955-2777, or the sheriff's Moreno Valley Station at (951) 486-6700.