This is an archived article and the information in the article may be outdated. Please look at the time stamp on the story to see when it was last updated.
A young girl was playing in the front yard of a Fullerton home when a driver who authorities believe was intoxicated lost control of his SUV and fatally struck her on Saturday, police said.
The 6-year-old was found suffering extensive injuries, lying on the sidewalk on the east side of the 1400 block of Lombard Street, when officers responded to the scene at about 2:15 p.m., Fullerton police said in a news release.
She was rushed to a nearby trauma center, where she was pronounced dead. Her identity has not been released.
Officers arrested 52-year-old Anaheim resident Maximino Delgado, who stayed at the scene and was cooperative in the investigation, according to police.
Delgado was attempting to turn his 1990 Toyota 4Runner right onto Lombard Street from Gage Avenue when he lost control and drove onto the sidewalk where the young girl was playing and crashed into her, investigators said.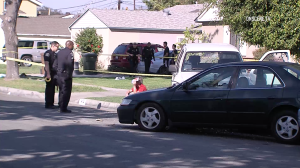 After hitting the girl, Delgado allegedly continued driving across the sidewalk until his SUV ran into a parked car and came to a rest.
Officials did not say whether other children were in the area at the time.
Preliminary breathalyzer tests set Delgado's blood-alcohol content at 0.23 percent, police said.
The 52-year-old was arrested on suspicion of driving under the influence, vehicular manslaughter and driving with a suspended license. He was being held on $2 million bail, officers said.
A GoFundMe page has been set up to help the victim's family with funeral expenses.
Press Release- 6-year-old female killed by drunk driver while playing in front yard

***PIO enroute to scene*** pic.twitter.com/CmFpM6TyKk

— FullertonPD PIO (@FPDPIO) February 18, 2018