This is an archived article and the information in the article may be outdated. Please look at the time stamp on the story to see when it was last updated.
A man who shot by deputies in a gated retirement community in Laguna Woods has died, authorities said Wednesday, a day after the shooting occurred.
The Orange County Sheriff's Department identified the man as 65-year-old Paul Mono, of Laguna Woods.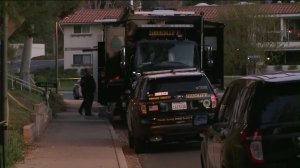 Mono was struck by gunfire after deputies responded to the 600 block of Avenida Sevilla, located in the retirement community of Laguna Woods Village, following a report of "shots fired" in the area on Tuesday afternoon.
Contractor Dennis Metzler, who witnessed the deputy-involved shooting, told KTLA he was in the process of remodeling Mono's home when he and one his colleagues -- a realtor he identified as Jennifer -- stopped by the residence to deliver floor plans to their client.
Metzler said he was waiting outside while his colleague chatted with the man about the remodel when the situation abruptly escalated.
"He started screaming and yelling and doing things, then he threatened me by name. Said he wanted to kill me. Then I heard Jennifer say, 'Paul put the gun down,'" Metzler recalled.
At that point, he called 911, and authorities arrived on scene around 2:10 p.m. Deputies entered the home and ordered the man to surrender and drop his weapon, according to Metzler. He said he heard his client yell for deputies to shoot him.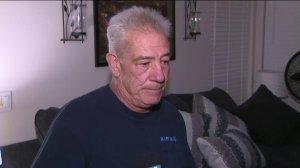 It was unclear what transpired immediately after that, but Metzler recalled hearing five gunshots. After that, Mono was transported to a hospital in unknown condition.
The Sheriff's Department tweeted on Wednesday morning that Mono was pronounced dead the night of the shooting.
Metzler told KTLA the man had been drinking and smoking in recent months and he had become increasingly agitated. The man's "attitudes would change constantly," according to the contractor.
"Something so small turned into something so big so fast," he said of the shooting, adding that the incident had left him shaken up.
Authorities have not released any additional information amid the ongoing investigation.