This is an archived article and the information in the article may be outdated. Please look at the time stamp on the story to see when it was last updated.
Seven people were arrested at Cal State Fullerton on Tuesday night during protests on campus as conservative firebrand Milo Yiannopoulos was set to speak.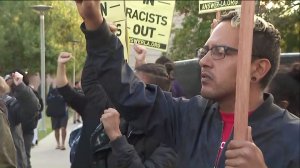 At least two arrests were the result of a scuffle between left-wing protesters and right-wing counter-protesters, said university spokesman Jeff Cook. It's unclear what led to the other arrests.
Police intervened when someone in the crowd, which included about 50 protesters and one Yiannopoulos supporter, shot pepper spray into the air, said Capt. Scot Willey of the university's Police Department. It's unclear who brought or shot the pepper spray, or why it was used. The protesters did not appear to be affiliated with the school.
Officers formed a line to "get them to move along," Willey said. One woman sought treatment from fire officials.
Read the full story on LATimes.com.