This is an archived article and the information in the article may be outdated. Please look at the time stamp on the story to see when it was last updated.
A total of seven people were injured after two vehicles were involved in a head-on collision near Beverly Hills on Sunday, authorities said.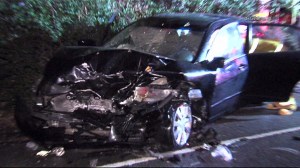 The crash occurred at approximately 2:20 a.m. in the 1300 block of N. Benedict Canyon Drive (map), according to Sgt. April Harding with the Los Angeles Police Department.
An Infiniti with five passengers was traveling northbound approaching Hillgrove Dr. when the driver suddenly veered into southbound lanes after taking a curve too fast, crashing head-on with a Honda that was headed in the other direction, Harding said.
Four people were critically injured in the collision, while three others suffered moderate injuries, according to the Los Angeles Fire Department.
Benedict Canyon was temporarily shut down in both directions at Beverly Estate Drive in the aftermath of the crash.
No further information was available.
KTLA's Geoff Peters contributed to this report.