This is an archived article and the information in the article may be outdated. Please look at the time stamp on the story to see when it was last updated.
Six people were transported to hospitals and another suffered minor injuries Friday afternoon when an ambulance and a conversion van collided at an intersection in Fountain Valley, officials said.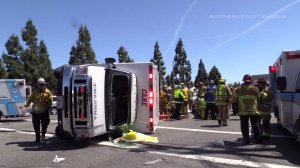 The crash happened about 1:40 p.m. at Euclid Street and Warner Avenue, according to a spokesperson for the Orange County Fire Authority.
The van was traveling westbound on Warner, while the ambulance was headed southbound on Euclid with its lights and sirens on, the Fountain Valley Police Department said in a news release. The collision occurred as the emergency vehicle was "attempting to travel through the intersection," police said.
News video showed the ambulance on its side after the crash.
Two patients were taken to UC Irvine Medical Center, and two were transported to Fountain Valley Regional Hospital, the spokesperson said. The person who sustained minor injuries was treated and released at the scene.
Capt Mike Barr, of the Fountain Valley Fire Department, said six people were hospitalized. It was unclear to which facility the sixth patient was taken. Five of them — two EMTs, one firefighter-paramedic and one patient — had been in the ambulance at the time of the collision, Barr said.
Most of those transported to medical centers were in moderate condition, according to the captain.
Impairment was not a factor in the incident, the police statement said. An investigation was ongoing.