This is an archived article and the information in the article may be outdated. Please look at the time stamp on the story to see when it was last updated.
At least 12 people were hospitalized after being exposed to pool chemicals at a swim club in Thousand Oaks Wednesday evening, according to the Ventura County Fire Department.
A group of children ages 11 to 15 were taking part in a session at Daland Swim School, located along East Wilbur Road, when several of them started feeling sick. They were having difficulty breathing after being overcome by fumes, fire officials said.
First responders were called to the scene about 6:15 p.m., and upon their arrival, they found a number of people sickened by the chemical exposure, Ventura County Fire Captain Stan Ziegler said.
Fire officials have not released the ages of those hurt.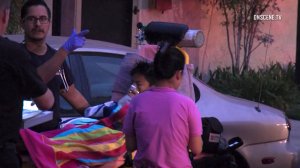 The source of their illness is believed to be an overexposure to chlorine, according to the swim school's owner, Leslie Daland-James. She said a fire inspector told her there was a concentration of chlorine inside the pool, which may have been pushed into the waters by equipment.
"We have an automated chlorine system so that our chlorine levels stay where we want them at all times," she said. "There was a little bit of chlorine that was concentrated in there when the pumps clicked on. It came out. And that's what happened."
Although officials initially described some as being critically injured, they later clarified there were no critical injuries but just some people more seriously hurt than others.
Eight were needing "immediate" medical care while another seven were suffering from more minor injuries, Ziegler said. A total of 12 were hospitalized, officials said.
Video of the scene showed teens and children wearing oxygen masks as some were wheeled away on stretchers.
"It was scary for sure," Daland-James said, adding that her child was also in the pool.
While staff at the school were initially unsure of what could be causing the children to feel sick, they immediately went into emergency mode as they had the kids shower off right away, Daland-James said.
Some children were hospitalized while others were released to their parents and loved ones.
"They breathed it in so their lungs are going to be hurting a bit but everyone's going to be fine," Daland-James said.
Those injured were being taken to Los Robles Regional Medical Center and Simi Valley Hospital, officials said.
Ziegler said up to nine ambulances were called to the scene while officials were still trying to assess everyone who was at the pool, determining who is in need of medical treatment. Earlier, officials said 20 people were having trouble breathing.
"These numbers are fluctuating — they're changing," Ziegler said in a video the department posted to Twitter just after 8 p.m.
"We're still trying to get a handle on exactly how many patients were affected," he said.
Ziegler said officials were expected to remain at the scene for several more hours.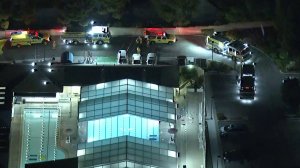 Sky5 video of the scene showed first responders and a number of ambulances just outside a rectangular pool with another larger pool next to it. What appeared to be towels and clothes were strewn about alongside the larger pool.
Video of the scene on the ground showed people walking and laying out on stretchers with their faces covered with masks connected to what appeared to be oxygen tanks.
Outside the pool area, some people covered in towels could be sitting along the curb as firefighters appeared to be speaking with others at the scene, as seen in the aerial footage.
Authorities told motorists to avoid the area of Wilbur Road near North Moorpark Road.
The swim school is expected to be closed on Thursday to allow its equipment to run but plans to reopen on Friday.
#WilburInc Upgraded to a Level 2 MCI due to 20 PT's having difficulty breathing. 4 engines, 2 BC's, 3 Ambulances and EMS supervisor on-scene. @VCFD @toaksvcso

— VCFD PIO (@VCFD_PIO) October 4, 2018