This is an archived article and the information in the article may be outdated. Please look at the time stamp on the story to see when it was last updated.
Six people were hospitalized after the driver of a test-drive car lost control and struck a group of people outside the L.A. Auto Show on Monday, authorities said.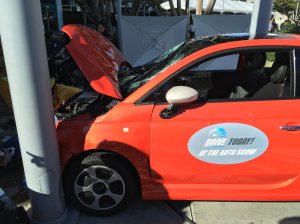 The crash was reported about 1:15 p.m. at 1201 S. Figueroa St., at the Los Angeles Convention Center, according to the Los Angeles Fire Department.
A total of eight adults were evaluated by paramedics, with five pedestrians and the vehicle's driver taken to area hospitals, Brian Humphrey of LAFD said. The driver of the vehicle initially declined care, Humphrey said.
The patients were between 31 and 48; their medical conditions were not immediately known but Humphrey said they were in "minor to moderate distress."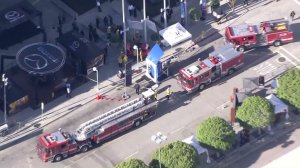 The person behind the wheel was on a test drive when he lost control, jumped the curb and hit a planter, Los Angeles police Lt. Chris Ramirez said on scene. Two men were in the car, he said.
The Fire Department tweeted an image of a vehicle that appeared to be a red Fiat 500. It bore a sign on its door stating "Drive Today! At the Auto Show."
The crash appeared to have occurred among outdoor tents set up for the auto show, aerial video from Sky5 showed.
#LAFD #Photo of vehicle involved in collision at #LAautoshow @ConventionLA – you may use photo under Creative Commons License – Credit LAFD pic.twitter.com/uTxQEcQWIr

— LAFD Talk (@LAFDtalk) November 21, 2016