This is an archived article and the information in the article may be outdated. Please look at the time stamp on the story to see when it was last updated.
A 7-year-old boy who loves watching Batman, playing Batman video games, and who essentially loves all things Batman may not be very unusual.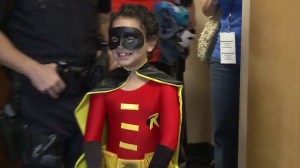 But this 7-year-old spent his Monday riding around Orange County in the Batmobile, and helping the caped crusader battle crooked cowboys and pillaging pirates.
Dressed as his favorite superhero, Batman's sidekick Robin, Alex Lelenoa's dream of becoming a crime fighter came true, thanks to the Make A Wish Foundation and the Anaheim Police Department.
Alex is battling leukemia and the foundation chose to make his wish come true.
"I feel really thankful for the foundation," Alex said.
"I'm beyond emotion, my heart's going to pop out of my chest," Elizabeth Stoffer, Alex's mother said.
Alex began his day by being sworn in as a crime fighter at the Anaheim Police Department.
After rounding up villains in Buena Park, Alex was to be taken by helicopter to Angel Stadium before eventually returning, to a heroes welcome, to the police station.
I'm so excited, so happy for him. I'm just glad that he's having a wonderful time," Stoffer said.