This is an archived article and the information in the article may be outdated. Please look at the time stamp on the story to see when it was last updated.
A 7-year-old girl was killed and three young boys and a woman were critically injured early Sunday evening when the car in which they were traveling crashed into a home in South L.A., according to the Los Angeles Fire Department.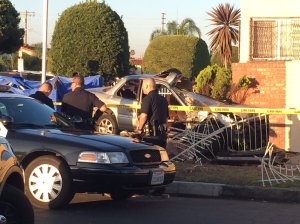 The woman, identified as the children's mother and the driver of the vehicle, was later arrested on suspicion of DUI, said Sgt. J. Kelly, a spokesman for the Los Angeles Police Department.
The incident occurred shortly before 6 p.m. in the 700 block of 93rd Street, the Fire Department said in a news alert.
Firefighter-paramedics arrived to find "a fairly chaotic scene," said LAFD Battalion Chief Ellsworth Fortman. "They did see four children who were scattered across the lawn and the female driver trapped inside the vehicle."
The girl was ejected from the car and pronounced dead at the scene, according to the police sergeant.
The injured boys are all under the age of 6 and the woman is 30 years old, the LAFD said. The four surviving victims were hospitalized.
The cause of the crash was unknown, and it was unclear if anyone was inside the house at the time.
Whether drugs or alcohol were a factor was under investigation, the LAPD said.