This is an archived article and the information in the article may be outdated. Please look at the time stamp on the story to see when it was last updated.
The largest seizure of cockfighting birds in U.S. history took place this week after a Los Angeles County Sheriff's Department investigation led to a raid at a remote canyon, authorities said.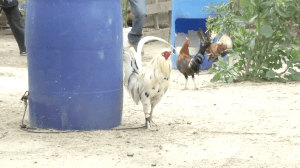 An "extensive rescue" operation began Monday in Val Verde, an unincorporated area of the Santa Clarita Valley.
Some 7,000 birds that had been used illegally were seized, authorities said at a Tuesday news conference at the sheriff's downtown L.A. headquarters. Guns and illegal drugs were also seized.
The Sheriff's Department estimated the value of the seizure as between $350,000 and $10.5 million, depending on the widely ranging value of each bird.
More than 100 sheriff's personnel and county animal control were part of the "dangerous tactical operation" in the 29000 block of Jackson Street, authorities said.
Detectives who specialized in "animal bloodsport crimes" worked for a month to investigate the cockfighting ring, sheriff's Capt. Jeff Perry said. He described the seizure of illegal cockfighting roosters as the largest in U.S. history.
Deputies on horseback entered roadless areas and "patrolled the canyons as some of the suspects tried to run up through the canyons," Perry said.
Investigators found hundreds of gaffs or slashers, which are strapped on the birds' feet so they can fight to the death, mobile cockfighting rings and syringes filled with steroids. About 10 "low-level" people were detained at the scene, Perry said. No arrests were made.
The property owner has been identified as the "primary suspect" but he is not in custody. His name was not released.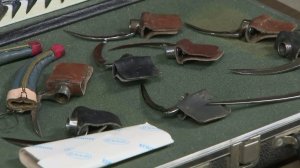 Video from the scene showed a rambling property with many dogs and birds – and tiny chicks – in cages. Many birds were sick, authorities said.
The same site was the subject of a search and seizure in 2007, when 2,700 birds were found, according to Eric L. Sakach, senior law enforcement specialist with the Humane Society of the United States.
"Cockfighting involves two roosters being forced to fight to the death, often with at least one or both birds dying a violent, agonizing death," Sakach said. "This type of activity is also frequently associated with other crimes."
The "bloodthirsty" sport is not unique to any particular culture and dates back thousands of years, Sakach said.
Neighbors who smelled a foul odor coming from the property called the Humane Society, prompting this year's investigation, deputies said.
After the 2007 raid, the operators apparently soon began fighting roosters again, Perry said.