This is an archived article and the information in the article may be outdated. Please look at the time stamp on the story to see when it was last updated.
Amid a powerful storm hitting the area Friday morning, tens of thousands of Southern California residents were left without power.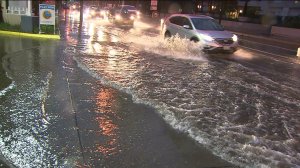 As of 6 a.m., more than 44,000 Department of Water and Power customers were without service in the region. Those outages stretched from the central valley down to the border of San Diego, according to DWP spokesman Robert Villega.
In Los Angeles County, more than 26,000 residents at one point did not have service, Villega said.
An additional 23,000 L.A. County residents who were Southern California Edison customers also did not have service, according to the latest figures from the company.
The area most affected by the Edison outages was Montebello, which saw at least 3,600 customers without power in the early morning hours.
Nearly 2,000 Edison customers were also without power in Santa Monica and Redondo Beach, while South Pasadena, Manhattan Beach and Inglewood each reported service outages at more than 1,000 homes.
The area surrounding the University of Southern California was also without power, USC tweeted at around 9:15 a.m. The outage affected residences and businesses north of campus from 27th Street north to Venice Boulevard.
The USC campus was not affected.
As of 8 a.m., 45 outages had been reported in L.A. County, 10 in Ventura County, eight in San Bernardino County, six in Orange County and one in Riverside County.
Nearly 30,000 residents were without service in all five counties, the 8 a.m. figures showed.
It was not immediately clear when power would be fully restored to all of the affected areas, but Villega said DWP crews had been out in the field preparing for the storm days before it hit.
He added that crews were working on fixing outages, and would continue to do so as they were reported.
By 3:30 power had been restored to more than 22,000 LADWP customers, leaving about 12,000 still without power, according to an update from the company.
As of 3:30 p.m. power had been restored to all but 7,706 Edison customers in Southern California. The hardest-hit regions were Los Angeles County with 2,876 customers without power, Ventura County with 1,578 without power and Orange County with 1,451 customers without service.

Most of the outages occurred overnight as the area was battered by heavy rains and strong winds.
Southern California Edition has a full list of outages on its website. Click here to view it.