This is an archived article and the information in the article may be outdated. Please look at the time stamp on the story to see when it was last updated.
Screams erupted from a Los Angeles courtroom Monday when a 74-year-old woman who spent the last 32 years in prison received a reduced sentence and was scheduled to be released.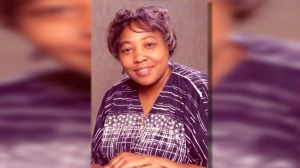 Mary Virginia Jones was convicted with first-degree murder without the possibility of parole in 1982 for her participation in the kidnapping and shooting of two men. On Monday, a judge reduced her sentence to voluntary manslaughter and time-served.
Family members in attendance at Monday's hearing shouted following the ruling and were asked to "quiet down."
"My mother never wavered on her belief of No. 1: her innocence, and the fact that she never should have been in custody," Jones' daughter, Demitra Jones-Goodie, said outside of the courthouse.
Although it was believed she could be released as early as Monday afternoon, the California Department of Corrections and Rehabilitation was dealing with paperwork and release was tentatively set for Tuesday, according to Gilien Silsby of USC Gould School of Law.
Update: 74 -Year-Old Woman Released After 32 Years in Prison
In 1981 Jones, known as "Mother Mary" to family and friends, was ordered, at gunpoint, to drive two kidnapped men to an alley in Los Angeles where they were later shot, according to a USC Gould School of Law news release.
Mose Willis, a homeless man who had begun living with Jones and attending church with her a few months before the 1981 crime occurred, kidnapped two drug dealers and ordered Jones to drive a car to the alley, according to the release.
Willis shot both men as Jones ran from the scene and stayed as a friend's house until she was arrested a few days later, the release stated. One of the men was killed in the incident, Silsby said.
Willis died several years ago on death row, Jones-Goodie said.
Before the crime, Jones never had a run-in with the law, owned her own home, worked full-time for the Los Angeles Unified School District as a teacher's aid, and was raising her kids, Heidi Rummel of the USC Justice Project said.
Jones was represented by law students at USC's Post-Conviction Justice Project who said Jones would not have been convicted if the jury had heard expert testimony on the effects of Battered Women's Syndrome, also known as intimate partner battering, the release stated.
"Mr. Willis forced Jones at gunpoint to participate in the robbery and kidnapping — she ran down the alley fully expecting him to shoot and kill her, too" co-director of  USC's Post-Conviction Justice Project Heidi Rummel said.
Jones-Goodie continued to support her mother through the 32-year ordeal.
"It has not been the same for any of us, me in particular, since my mother has been gone," she said. "I really felt as though I had lost a part of my being."
Correction: An earlier version of this post incorrectly reported that two men were murdered. Only one man died as a result of the shooting incident. This story has been updated to reflect the changes.