This is an archived article and the information in the article may be outdated. Please look at the time stamp on the story to see when it was last updated.
A 75-year-old man was killed and his 88-year-old uncle seriously injured when a fire broke out in a duplex in the Mid-Wilshire neighborhood of Central Los Angeles Friday morning.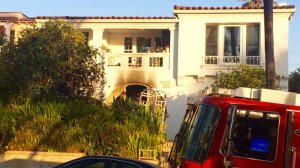 Firefighters responded to the two-story building in the 1100 block of South Sycamore Avenue about 3:48 a.m. and found the first floor on fire, Los Angeles Fire Department Capt. Erik Scott said.
The two men inside the bottom unit were apparently alerted by their smoke alarms, Scott said.
The 88-year-old man managed to escape, but did suffer from smoke inhalation and was hospitalized in serious condition.
The man's 75-year-old nephew was found in a storage area inside the building and taken in grave condition to a local hospital, where he later died, according to a Fire Department alert.
The fire was contained to the first-story by 35 firefighters who extinguished the blaze in about 16 minutes, Scott said.
Four residents who were awakened by smoke alarms in the upstairs unit were able to escape without injury, according to the Fire Department.
The 85-year-old building was not equipped with optional residential fire sprinklers.
The cause of the fire was under investigation.