This is an archived article and the information in the article may be outdated. Please look at the time stamp on the story to see when it was last updated.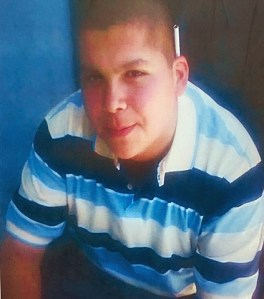 A $75,000 reward was offered Tuesday as police continued to search for the person who fatally shot a 19-year-old father in Hyde Park earlier this year.
Jose Andres Escobar was walking with a friend at about 7 a.m. on Jan. 10 in the area of Crenshaw Boulevard and 59th Street (map) when they were confronted by a stranger who shouted "Where you from?" the Los Angeles Police Department stated in a news release.
The man then pulled out a handgun and fired multiple shots, striking Escobar, who collapsed mid-block.
Escobar was taken to a local hospital where he died from his injuries, according to the news release.
The young father "was trying to make some extra money and collect cans, and he was taken in a very vicious manner," said Detective Connie Zych with the Police Department.
Police released surveillance video during Tuesday's news conference of the man they believe shot Escobar.
The video showed a man wearing a white shirt, blue jeans and a dark-colored jacket walking away from the location shortly after Escobar was shot.
The alleged shooter was described as a Hispanic man between the ages of 30 and 35, standing 5 feet 10 inches to 6 feet tall with a shaved head.
Escobar's mother joined authorities at the news conference to announce the $75,000 reward in the search for his killer.
"We want closure and justice for the family," Zych said.
Anyone with information was asked to call detectives at 323-786-5113. Those wishing to remain anonymous can call Crimestoppers at 1-800-222-TIPS (800-222-8477).