This is an archived article and the information in the article may be outdated. Please look at the time stamp on the story to see when it was last updated.
A 77-year-old man was left in grave condition after he was struck by a bicyclist who fled before being identified by police, LAPD said Thursday.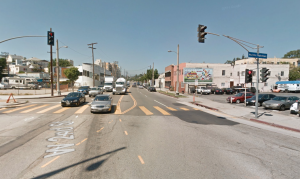 The crash occurred Oct. 15 on Glendale Boulevard just north of First Street, in the southern part of Echo Park near downtown L.A.
Levon Avetisyan was crossing Glendale Boulevard when he was struck by a cyclist who was riding northbound, according to a brief Los Angeles Police Department news release.
Avetisyan was hospitalized with severe head trauma, and he remains in grave condition, police said.
"The unknown bicyclist left the area before he was identified by police," the release stated.
The release did not state what time the collision occurred or whether the cyclist had struck Avetisyan and continued riding without stopping to render aid.
It was not immediately clear why the crash was not publicized for two weeks.
LAPD was looking for the cyclist and asked for the public's help. Anyone with information was asked to call LAPD Central Traffic Division detectives at 213-833-3713. During nonbusiness hours or on weekends, call 877-527-3247.