This is an archived article and the information in the article may be outdated. Please look at the time stamp on the story to see when it was last updated.
Dozens of bulldogs went up for adoption on Tuesday after being rescued from a breeder in Westminster.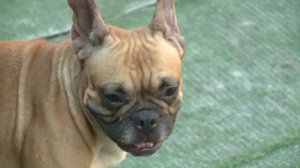 Animal control officers seized 78 French and English bulldogs on Nov. 6 after the Westminster Police Department received a complaint about dogs fighting at a residence, according to a statement from police. The animals needed medical attention and were sent to Westminster Adoption Group and Services for treatment.
The bulldogs — which were 5 months to 10 years old — suffered from ear, eye and skin infections, the shelter's Cortney Dorney said. Many have deformities due to inbreeding and overbreeding.
Westminster Adoption Group and Services is now accepting adoption applications, though volunteers warn the dogs will need significant veterinary care.
The adoption process includes a type of credit check due to possible medical expenses, according to the Orange County Register.
"Everyone is eligible," Dorney told the paper. "(But) we want to be sure the dogs can be paid for long-term."