This is an archived article and the information in the article may be outdated. Please look at the time stamp on the story to see when it was last updated.
An underground bunker in the backyard of an Inland Empire home and a stash of about $8.4 million in cocaine was uncovered and seized by investigators following the arrests of two men, the Orange County Sheriff's Department announced Friday.
Investigators found about 140 kilograms — or roughly 300 pounds — of cocaine at the home after stopping a vehicle along the 60 Freeway and arresting two men, the Sheriff's Department said.  That stop was initiated by a joint operation being carried about by 12 different agencies, officials said.
Inside the vehicle, authorities discovered "a substantial amount of narcotics," the Sheriff's Department said in a news release. Two men, ages 24 and 38, were arrested a short time later as investigators obtained a search warrant to go through their residence.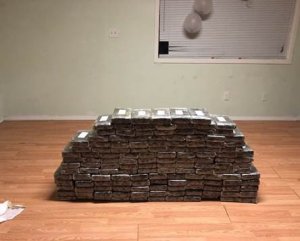 At the home, there was an underground bunker found in the backyard that was packed with stacks of cocaine, authorities said.
Sheriff's Department officials said the drug bust is part of a larger ongoing investigation so additional information about the nature of the mens' arrests and other details of the alleged crimes is not yet being released.
The agencies involved in the investigation include the O.C. Sheriff's Department and police from Cal State Fullerton and the cities of Orange, Buena Park, Tustin, Newport Beach, Fullerton, Huntington Beach, Santa Ana and Ontario, in addition to federal investigators from the Drug Enforcement Administration and FBI.