This is an archived article and the information in the article may be outdated. Please look at the time stamp on the story to see when it was last updated.
Eight bicyclists were injured when a suspected DUI wrong-way driver plowed into a group riding on Fiesta Island in San Diego on Tuesday night, according to police.
The driver, identified as 49-year-old Theresa Owens, 49, was evaluated at a hospital and then arrested on suspicion of driving under the influence, the San Diego Union-Tribune reported.
The crash occurred about 6:30 p.m. at 1000 Fiesta Island Road (map) near a Boy Scout camp.
Fiesta Island Road is one-way throughout the island, which is a park within Mission Bay. It is regarded by cyclists as an especially safe place to ride.
A group of 20 cyclists was riding when the driver hit the riders head-on in her Geo Prizm, according to San Diego Police Department Officer Dino Delimitros.
Mangled bikes were left by the side of the roadway. The Prizm had a smashed windshield and damage to its hood and front bumper, video from the scene showed.
The cyclists did not see the car coming because it was headed around a blind corner, police on scene told KTLA sister station KSWB.
"It was just bikes flying everywhere," said Joel Price, one of the cyclists. "Hit head on. … She had three people pinned on top of her car."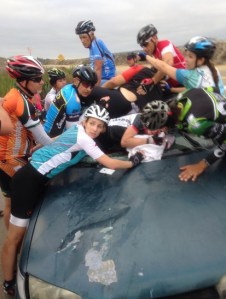 Price flew over his handlebars but had only minor injuries, he said on Twitter. He called Fiesta Island one of San Diego's safest places to ride a bike.
One rider had broken ribs, a major vertebrae fracture and internal injuries, Delimitros said in a brief description of the crash provided by police. Others had minor or moderate injures, he wrote.
Owens was booked by police about 2:30 a.m. Wednesday and was due in court for arraignment Friday, according to the San Diego County Sheriff's Department online inmate website.
She was being held on $100,000 bail on suspicion of driving under the influence, possession of a controlled substance, and being under the influence of a controlled substance.
Involved in a serious head-on car/cyclist collision. Car driving wrong way. Thankful for my minor scrapes bruises. pic.twitter.com/R77I30T1yc

— joel price 🚀 (@joelprice) August 13, 2014