This is an archived article and the information in the article may be outdated. Please look at the time stamp on the story to see when it was last updated.
Eight people were hurt at Los Angeles International Airport after a taxiing Boeing 737 crashed into the utility truck they were in on Friday, causing it to overturn.
The collision occurred shortly after Aeromexico flight 642 from Mexico City landed and made its way to the taxiway around 2:30 p.m., according to the Los Angeles Fire Department.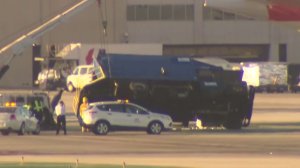 The aircraft's right wing struck the vehicle and was damaged, but the collision did not spill fuel or cause a fire, according to LAFD. The plane was still able to taxi to its gate.
The six men and two women aboard the airport supply truck all suffered injuries that were not life-threatening, though the women were more seriously injured, officials said.
All were transported to nearby medical facilities and were listed in stable condition, airport staff said in a statement.
None of the approximately 146 passengers and crewmembers aboard the plane were hurt, although one person reported pain after deplaning.
Airport officials and the National Transportation Safety Board were investigating the cause of the crash, while Aeromexico staff was working to determine the extent of the damage the aircraft sustained.