This is an archived article and the information in the article may be outdated. Please look at the time stamp on the story to see when it was last updated.
A gunman opened fire at a San Diego apartment complex on Sunday evening, wounding seven people and killing one before he was shot dead by police officers, according to the San Diego Police Department.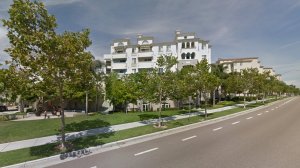 The shooting occurred around 6 p.m. in the pool area of the apartment complex in the La Jolla neighborhood, police said.
The victims were transported to local hospitals and some are in critical condition, said Police Chief Shelley Zimmerman.
A woman who was injured in the gunfire later died at the hospital, Zimmerman said.
It's unclear how many people were at the pool at the time of the shooting.
The gunman was killed during a confrontation with officers, said Zimmerman.
The gunman, who police described only as a white man, appeared to be reloading his gun when three officers arrived to the scene. Three officers shot the man after he pointed his gun at them, police said.
The shooter's motive has not been determined.
A witness told KTLA sister station KSWB in San Diego he saw three people had been shot on a sidewalk at the apartment complex. He ran into the clubhouse and looked out the windows.  He saw two other bloody people and one of them was crawling to the other trying to help.
"We looked at the pool area where the shooter was sitting there with a beer in one hand and a gun in the other," the witness said. "The suspect looked pretty relaxed, pretty relaxed."