This is an archived article and the information in the article may be outdated. Please look at the time stamp on the story to see when it was last updated.
One of the two boys who were wounded Monday morning during an apparent murder-suicide inside a special needs classroom at an elementary school in San Bernardino has died, officials confirmed.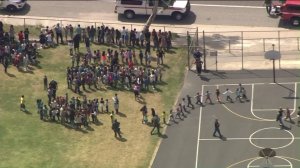 Eight-year-old Jonathan Martinez was one of 15 students inside the classroom at North Park Elementary School when he was critically wounded after his teacher's estranged husband allegedly opened fire on her, San Bernardino Police Chief Jarrod Burguan said at an afternoon press conference.
Martinez was airlifted to Loma Linda University Medical Center, where he later died from his injuries. The second injured student, a 9-year-old boy, was described as being in stable condition.
Police said the students were not the gunman's targets.
Officers responded to the school at 10:27 a.m. Monday after receiving reports of an active shooter on campus, San Bernardino City Unified School District spokeswoman Maria Garcia said.
Police found the suspected gunman, 53-year-old Cedric Anderson, and his wife Karen Smith, also 53, dead inside her special education classroom, as well as the two injured boys, Burguan said.
Police said Anderson gained access to the classroom after he walked into the school's office and said he was there to drop something off to his wife.
"He came in and very, very quickly, upon entering the classroom, started shooting,"Burguan said.
Officials said the two boys were standing behind their teacher when Anderson started shooting at her.
Two school aides were also in the classroom at the time of the shooting but were uninjured.
Police said Anderson and Smith had only been married for a few months.
Anderson has a criminal history, which includes domestic violence, Burguan said.
We had over 70 deputies respond to Northpark Elementary and our aviation crew transported the young boy. We are sorry we couldn't do more.

— John McMahon (@sheriffmcmahon) April 10, 2017