This is an archived article and the information in the article may be outdated. Please look at the time stamp on the story to see when it was last updated.
An 8-year-old boy was hospitalized after a pit bull lunged at him and bit him in the face outside a home near Riverside, marking the second incident the dog had been involved in this month, authorities said Friday.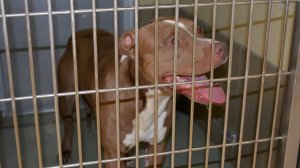 The latest incident occurred on Avenida Pescador, in unincorporated Home Gardens, shortly after 7 p.m. Thursday, according to the Riverside County Department of Animal Services.
The boy and his friend were visiting a residence on the street and were standing outside the front door of a friend's house when the dog attacked, the agency said in a news release.
He suffered wounds near his eye and mouth, and was taken to Loma Linda University Medical Center.
"He mauled his face," a neighbor, Fantine Cassidy, told KTLA Friday night.
An animal services officer responded an impounded the 6-year-old dog, a brown-and-white pit bull.
Authorities say the same dog bit a neighbor at the same location on July 5; the neighbor had four puncture wounds on his right arm, and suffered nerve damage to some of his fingers, according to the release. The man's wounds required hospital treatment.
The pit bull is in quarantine at the Western Riverside County/City Animal Shelter in Jurupa Valley, authorities said.
The pet's owner has since filled out paperwork to relinquish the dog for "humane euthanasia."
"In light of the boy's severe injuries, we would have recommended that the dog be euthanized in the interest of public safety," Animal Services Lt. James Huffman said in the release. "Our hearts go out to the victim and his family as he recovers from this horrible, preventable incident."
It was unclear when the dog would be euthanized. A hearing over the July 5 incident that was scheduled to take place next week has been canceled after the owner signed the dog over.