This is an archived article and the information in the article may be outdated. Please look at the time stamp on the story to see when it was last updated.
A 20-year-old man was arrested and faced attempted murder and assault charges in connection with a "brutal" attack that left an elderly man with serious injuries, Fontana police announced Tuesday.
The 80-year-old victim was walking home from the gym in the area of Sierra Avenue and Walnut Street (map) Thursday night when Jonathon Paul Silva confronted him "for no apparent reason," a news release from the Fontana Police Department stated.
Silva allegedly punched the victim multiple times in the face and knocked him to the ground before he tried to strangle him, police said in the release. The suspect also allegedly bit the elderly man roughly 10 times on his stomach as he lay on the ground.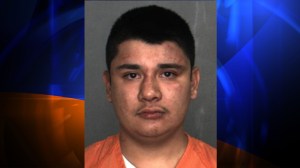 After a brief struggle with responding officers, Silva was detained and then arrested, according to police.
Silva "was under the influence of alcohol," Fontana police spokesperson Martha Guzman-Hurtado said. "Two 40-ounce bottles of beer were found in the area, and a bottle of Crown Royale."
The victim suffered major injuries, including swelling to the face, a broken nose, lacerations over his eye and severe bite marks on his stomach, according to police.
No further information was available.
KTLA's Kimberly Cheng contributed to this report.