This is an archived article and the information in the article may be outdated. Please look at the time stamp on the story to see when it was last updated.
A 29-year-old male transient has been arrested on suspicion of attacking an 83-year-old man in an "unprovoked" incident that was captured on surveillance video in a Santa Ana parking lot, police announced Saturday.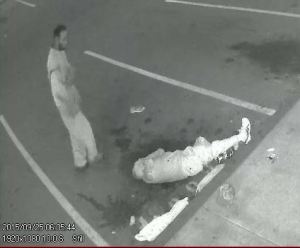 Demarrea Chante Barnes was apprehended by Anaheim police, in that city, before being turned over to Santa Ana police detectives, according to a news release. Additional details of the arrest were not disclosed.
Barnes was booked for alleged assault with a deadly weapon other than a firearm, and assault with a deadly weapon with great bodily injury, the statement said.
The victim, Tuyen Nguyen, was  in critical but stable condition Saturday, according to his daughter.
The elderly man was walking in a parking lot at 5015 West Edinger Ave. around 6:10 a.m. Friday when he was assaulted, the Santa Ana Police Department said.
The attack was captured on surveillance video, which shows Nguyen walking unassumingly when a passerby punches him, knocking the 83-year-old to the ground.
The assailant then drops a bag full of unknown items and punches Nguyen at least two more times before kicking him.
Nguyen was left alone on the ground as the man picked up his dropped items and left.
The attack was "without provocation," police said Friday.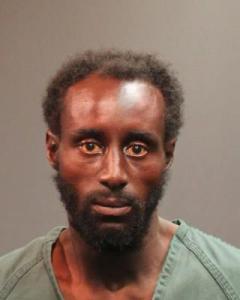 Nguyen suffered a brain hemorrhage and broken facial bones during the attack and was hospitalized at Fountain Valley Regional Medical Center.
Julie Nguyen, the man's daughter, said Saturday that family members were awaiting the results of a CT scan to see if the bleeding in her father's brain had stopped.
"He's in a lot of pain right now, physically," she said Friday. "And for us it's a mental anguish, mental pain. It's a lot."
Police would only confirm that he was in stable condition.
Nguyen's family believed he had seen his attacker in the shopping center before Friday, but additional details were not known.
Anyone with information was asked to contact Detective Cpl. Leo Rodriquez of the Santa Ana Police Department at 714-493-9135 or Orange County Crime Stoppers at 855-TIP-OCCS.