This is an archived article and the information in the article may be outdated. Please look at the time stamp on the story to see when it was last updated.
A rollover crash involving two vehicles on a North Hills surface street Sunday morning left a father dead and several others injured, including three children, officials said.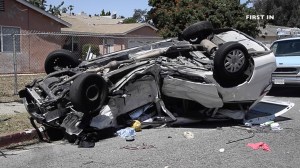 More than 60 firefighters responded to the "significant" collision, which occurred in the 8700 block of Haskell Avenue just before 11:40 a.m., according to a Los Angeles Fire Department alert.
News video from the scene showed a heavily damaged SUV and an overturned minivan. Multiple occupants were ejected in the crash, the LAFD alert stated.
"Some of the people that were helping … their hands were full of blood," said Estevan Prado, a nearby resident. Good Samaritans who aided the injured were "putting rags on them, to try to stop the bleeding and try to calm them down," he said.
The Fire Department initially said nine people were injured, eight "potentially critically." Three children were airlifted to pediatric trauma centers, and the other six were taken to hospitals.
Sgt. David Delgado, a spokesman for the Los Angeles Police Department's Valley Traffic Division, later confirmed that one of the minivan's occupants — the father of one of the children — was pronounced dead at the hospital. The deceased man's name was not immediately released.
One of the three injured children was 7 years old, and at least one of the other two youths was younger than that age, the sergeant said.
A vehicle ran a red light before crashing into the minivan, according to the LAPD. The driver and passenger in the first vehicle, which had earlier been involved in a hit-and-run collision, were injured, Delgado said.
LAFD requested the Mayor's Crisis Response team to "assist the family with this traumatic incident," the LAFD alert stated. 
Both the hit-and-run and the rollover crash were under investigation.