This is an archived article and the information in the article may be outdated. Please look at the time stamp on the story to see when it was last updated.
Eight people were hospitalized, including two minors who were in critical condition, after suffering carbon monoxide poisoning at a Bell Gardens home on Tuesday morning, officials said.
The incident was reported just after 9:15 a.m. at a home in the 5500 block of Clara Street, Los Angeles County Fire Department Inspector Scott Elliott said.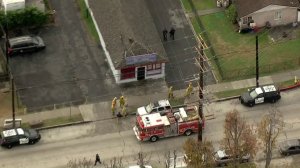 Two patients describes as minors were in critical but stable condition, he said. Another minor and five adults were hospitalized in fair condition.
Authorities initially described the incident as involving nine patients, but ultimately said eight patients were treated.
A hazardous materials crew responded to the scene to air out the gas and determine its source, Scott said. Los Angeles County Sheriff's Department deputies also responded.
While the specific cause of the carbon monoxide leak was not yet available, such incidents are most commonly due to heating appliances and are preventable, officials said.
"It is critical that gas appliances are properly ventilated and (carbon monoxide) detectors utilized," the department said via Twitter.
KTLA's Steve Bien contributed to this article. 
Battalion 13 units assisted by LA County Fire HAZMAT teams on scene of a Carbon Monoxide (CO)poisoning in the City of Bell Gardens. 8 people transported to local hospital. It is critical that gas appliances are properly ventilated and CO detectors utilized. This is preventable! pic.twitter.com/mlCWYAYh71

— L.A. County Fire Department (@LACoFDPIO) January 15, 2019