This is an archived article and the information in the article may be outdated. Please look at the time stamp on the story to see when it was last updated.
A $1.3 billion freeway-widening project that Southern California transportation officials have said will add lanes and reduce delays on State Route 91 between Orange and Riverside counties had its ceremonial groundbreaking in Corona on Wednesday.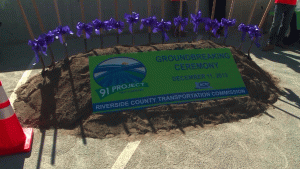 The Riverside County portion of the 91 Freeway is one of the worst commutes in the country, according to the Riverside County Transportation Commission, which also noted on its website that eastbound traffic between Anaheim and Corona is consistently rated among the five most congested areas in the country.
Construction on the project will take place between the Orange County line and the 15 Freeway over the course of the next four years.
According to the transportation commission's website, the project will attempt to ease some of the traffic bottleneck issues by adding two general purpose lanes and extending the existing express toll lane.
While construction will likely make traffic worse in the near future, officials said doing nothing is simply not an option.
"The alternative really is not acceptable, in that we already have such severe congestion on this corridor; it will only get worse. We have to do something here," said Anne Mayer, the executive director of the commission. "The project that we're proposing is going to make that commute so much easier, and it's going to give us the ability to move more people along the corridor."
In addition to improving the freeway, the commission's website said that the project is expected to add more than 16,000 jobs.
Construction will start early in 2014 and is slated to end sometime in fall or winter of 2017.
KTLA's Tracy Bloom and Chip Yost contributed to this report.