This is an archived article and the information in the article may be outdated. Please look at the time stamp on the story to see when it was last updated.
Separate road projects that require lane closures on the eastbound 91 Freeway in Orange and Riverside Counties are expected to cause problems for weekend drivers, with work beginning Friday night.
For the Riverside County work, motorists are urged to avoid the 91 Freeway in the Corona area or use the eastbound 60 Freeway to the southbound 15 Freeway to access the 91.
The Riverside County closures are: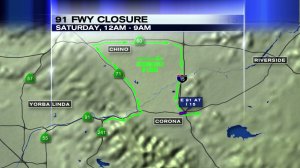 A full closure of eastbound 91 Freeway at the connector with the 15 Freeway scheduled from midnight Friday to 9 a.m. Saturday. This closure is required for a concrete pour on the connector bridge, according to the Riverside County Transportation Commission.
About 3 miles west of the 15 Freeway, a full closure of eastbound 91 Freeway at Maple Street will take place from 10:30 p.m. Saturday to noon Sunday. This closure is for a bridge demolition, according to the commission.
Details on the Riverside County project, as well as suggested detours, are at the 91 Project website.
Meanwhile, in a separate project in Orange County being called the "91 Weekend Shift," about 10 miles of Express Lanes on the 91 Freeway will close so that they may be resurfaced to the Riverside County line.
Eastbound 91 Freeway Express Lanes from the 55 Freeway to Riverside County line closed from 11 p.m. Friday to 6 a.m. Monday. The No. 1 lane will be closed during rolling periods of construction.
The 91 Weekend Shift project is expected to continue in eastbound Express Lanes on weekends through Oct. 10. Westbound Express Lanes will be closed and repaved on weekends from Oct. 14 through Nov. 21, according to the Orange County Transportation Authority.
Details are on the 91 Weekend Shift website.