This is an archived article and the information in the article may be outdated. Please look at the time stamp on the story to see when it was last updated.
In recordings released on Sunday, 911 callers are heard reporting a gunman who shot and wounded his brother-in-law in Anaheim before himself being fatally shot by police, authorities said.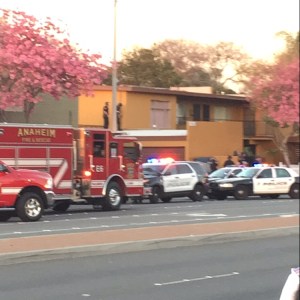 "He looked like he was really mad and he had a gun," a female caller tells a dispatcher in one of the calls, which was received late Saturday afternoon, according to the Anaheim Police Department.
Officers responded about 4:45 p.m. to a report of a shooting in the 2000 block of West Cris Avenue. A police helicopter unit arrived at the scene, where a man was lying in the street and bleeding. Another man, later identified as 30-year-old Danny Rendon, was pointing a handgun at the wounded man, police said in a statement.
As the helicopter circled overhead, "it is believed the suspect fired the handgun at the police helicopter and its crew," the news release said. The helicopter was not struck by gunfire.
Police ground units arrived at the location and confronted Rendon, who dropped the gun, according to authorities. However, after he refused to comply with commands from police, three officers opened fire, the statement said.
Rendon was struck and killed in the shooting. Rendon's brother-in-law, who had been shot once in the leg by the suspect, was transported to a hospital in stable condition, police said. No officers were hurt.
A firearm was recovered near Rendon's body, the news release said.
According to investigators, the suspect had earlier shot at and missed two people, whom he did not know, near the intersection of South Roberts Street and West Juno Avenue. The motive for that shooting was unclear.
Rendon then drove to his estranged wife's home on West Cris Avenue, brandishing a firearm at several people along the way, police said.
"Somebody's with a gun behind us," a female caller says in one of the 911 recordings, before describing the gunman's vehicle. On the same call, a male voice is heard saying the shooter fired twice into the air.
Rendon shot his brother-in-law after arriving at the residence, according to the news release.
In accordance with protocol, the police shooting was being investigated by the Orange County District Attorney's Office, with assistance from Anaheim police homicide detectives. Simultaneous investigations were being conducted by the Police Department's Major Incident Review Team and the Orange County Office of Independent Review.