This is an archived article and the information in the article may be outdated. Please look at the time stamp on the story to see when it was last updated.
A man shot and killed his wife in the Vermont-Slauson area of South L.A. on Tuesday as the nation celebrated Valentine's Day, police said.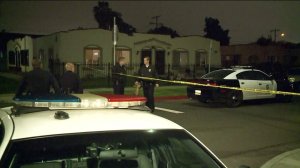 The incident was reported around 7 p.m. near the intersection of South Vermont Avenue and West 60th Street, according to Officer Mike Lopez with the Los Angeles Police Department.
The incident apparently began as a verbal argument between the man, 92, and his 72-year-old wife, officers said. At some point, the husband allegedly pulled out a shotgun and opened fire.
His wife was pronounced dead at the scene, authorities said.
The man was detained and the gun used was recovered by police, officials said.
No further details were immediately available.