This is an archived article and the information in the article may be outdated. Please look at the time stamp on the story to see when it was last updated.
By daybreak Sunday, hordes of anxious skiers and snowboarders were already making their way to Mammoth Mountain.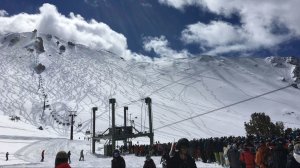 The ski resort's parking lots were full before 9 a.m. and cars lined the snow-dusted roads. License plates showed visitors had traveled from Nevada, Arizona, Texas and New York.
Groups waited at bus stops or trekked nearly half a mile with their equipment.
At the Eagle Lodge, the line of people waiting to buy lift tickets snaked outside and around the domed building.
Read the full story on LATimes.com.