This is an archived article and the information in the article may be outdated. Please look at the time stamp on the story to see when it was last updated.
The son of a couple who lost their home in the destructive La Tuna Fire described the fire's behavior as "a freight train," and returned to the rubble Monday to try to salvage family memories.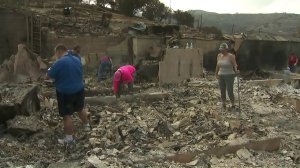 Craig Bollesen said he and his parents had little time to prepare before the erratic blaze made its way toward his family home.
He had gone to the home in the Shadow Hills neighborhood and began packing items early one morning. He thought things were going to be OK. At the time the home wasn't being threatened, and Bollesen even thought he could put out the blaze himself with a garden hose.
"We didn't actually see the fire change it's behavior from a slow-moving crawl in the distance, to a freight train coming at the house until after 1," Bollesen told KTLA Monday. "When it was time to go, it wasn't like, 'OK we have a couple of hours for you to walk down the steps and head out, dad. We gotta go now. We gotta pick you up and carry you.'"
That's when Bollesen and a neighbor picked up his father's wheelchair and got out before the flames took over the house.
He described the sequence as "very scary."
"We were praying as we left that things would not turn out this way," Bollesen said, standing in the wreckage that was once his bedroom.
Theirs was one of three homes destroyed during the blaze.
Bollesen said he has taken his father back to the rubble and that his father is worried about the future.
"It's hard for him. He built this place, and he's a strong guy, but he's older now. He doesn't know what he's going to do," Bollesen.
He added that his father grabbed his own shirt, indicating that it was all he had left.
"We're going to fix that, daddy," Bollesen said he told his father.
A friend started a GoFundMe page for Bollesen's parents, which indicates that this is the second time they've lost their home to a fire.
Bollesen returned to the ruins Monday, along with friends who helped sift through debris.
"That is a community that, together, they can respond to any kind of emergency for a family. We just love that community," Bollesen said of the group that gathered to help Monday.