This is an archived article and the information in the article may be outdated. Please look at the time stamp on the story to see when it was last updated.
ANAHEIM (KTLA) — From the hottest stars Edward and Bella, to Hollywood legend Liz Taylor, artist Noel Cruz has mastered the skill of transforming factory dolls to collectible creations.
Cruz says, "Some people think I'm a weirdo, that I have nothing better to do with my time."
But we know better, becasue these dolls now bring Cruz big bucks.
"The most expensive one would have to be Cher and it was a lot. I was in shock," says Cruz.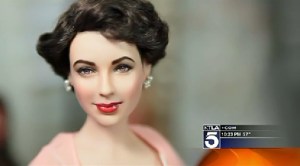 Back in the day, she sold for $3,800.
His obsession with drawing began as a young boy growing up in the Philippines after he saw a Miss Universe pageant on TV.
"I had never seen so many beautiful faces in my life," Cruz says.
Now years and hundreds of dolls later, these celebrity faces are his fascination.
When we met up with Cruz in his Anaheim studio, he shared his latest project from "The Hunger Games."
In these mini makeovers ,no detail goes unnoticed to bring famous figurines to life — like Johnny Depp and Angelina Jolie.
And on this day, I was in for a surprise myself, a replica from my old pageant days.
All of his works, one of a kind. Each, part of his life's passion.
For more information, check out: www.ncruz.com.