This is an archived article and the information in the article may be outdated. Please look at the time stamp on the story to see when it was last updated.
A 28-year-old woman who disappeared from her Hollywood Hills apartment over the weekend was found alive Wednesday, one day after her car was discovered abandoned in the Antelope Valley, according to police.
Laura Lynne Stacy was discovered by LAPD detectives who were responding to assist in the search for the missing woman, a Los Angeles Police Lt. Dionne Watts said Wednesday afternoon.
"They observed her walking on the side of the freeway, made contact with her, and verified that it was her," the spokeswoman said.
Stacy was then reunited with her parents and taken to a local hospital for precautionary reasons, according to LAPD.
No additional details were immediately released about the circumstances under which she was found.
"There's a lot of unknowns as to what transpired but she was transported just for precautionary reasons and probably just exposure to the elements," LAPD Detective Tim O'Quinn told KTLA.
Stacy appeared "somewhat disoriented" and "confused" when she was found, he added.
Prior to being located Wednesday, Stacy had last been seen Sunday at her apartment building in the 3600 block of Barham Boulevard, according to a news release from the Los Angeles Police Department.
On Tuesday, a tow truck driver in the Antelope Valley spotted a car matching the description of one Stacy was last seen driving and called police.
Authorities confirmed Wednesday that the car, which was found abandoned in a remote area near the intersection of 97th Street E and East Avenue E in Northeast Antelope Valley, is the same one Stacy was driving.
Stacy's parents, Steve and Marcy Stacy, arrived in Los Angeles from Denver shortly after their daughter's disappearance and were at the scene Wednesday morning where the car was found.
"The family is thrilled their daughter was found alive and was brought to the hospital to be cared for," publicist Carol Stevenson said on the family's behalf. "They are with her and can now move forward from this together."
Several community members arrived a short time later with off-road vehicles to help the family and authorities with their search.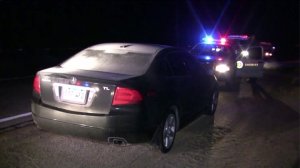 Marcy Stacy stated she believed her daughter may have run out of gas and left her vehicle to find help or shelter.
Authorities have not determined if the car was out of gas, but did notice the vehicle was locked and the keys were not inside, Los Angeles County Sheriff's Department Detective Tim O'Quinn said during a news conference Wednesday.
Investigators conducted a "grid search" of the area, and a helicopter was also used, O'Quinn said.
Before she was found, he stated it was possible Laura Stacy obtained a ride after leaving her vehicle and was no longer in the area, O'Quinn said.
Investigators have not found any signs of foul play in connection with the disappearance, but that could always change, O'Quinn said.
Police first asked the public for help Tuesday in their search for Laura Stacy, who stands 5 feet 8 inches tall and weighs about 130 pounds with blond hair and blue eyes.
Her family told KTLA prior to the discovery of the car that someone found Stacy's phone at Golden Valley Park in Santa Clarita in a puddle of water.
Marcy Stacy was unsure what her daughter would have been doing in Santa Clarita, but said she loved to explore new places and take pictures.
Steve Stacy said it was unlike his daughter not to be in contact with family members. "She's usually in contact with someone in our family, either her sister, her brother or ourselves," he said.
Anyone with further information was asked to call the Police Department at 213-996-1800. Those who wish to remain anonymous can call Crime Stoppers at 1-800-222-8477.
KTLA's Tracy Bloom contributed to this story.