This is an archived article and the information in the article may be outdated. Please look at the time stamp on the story to see when it was last updated.
An Australian cattle dog, neglected for years, covered with ticks and used for target practice, was rescued from the streets of a neighborhood in Bloomington by a woman who heard about the dog's plight on social media.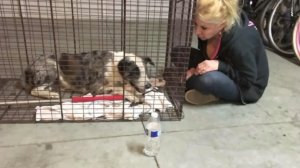 Faith Easdale took in "Journey" the dog on July 9.
"It was horrible. He was laying in the hot sand, no shade … and apparently he'd been that way for five years," Easdale said.
She took him to Dr. Ashkan Hakhamian, medical director at University Veterinary Center in Anaheim, who believes Journey was abused and his leg was shot off by shotgun shells at close range. X-rays showed numerous bullet fragments still stuck in his leg.
The plan is to amputate the stump to remove the majority of the fragments.
"This dog suffered for many years," Hakhamian said. "You could see the psychological problems he had."
The veterinarian believes Journey also suffers from something similar to phantom leg syndrome.
After surgery, Journey still faces a long road to recovery and will need training and therapy.
Easdale believes that whoever is responsible for harming Journey should be found and prosecuted.
"To stand and shoot a defenseless animal's leg off is horrifying," she said.
Visit the University Medical Center's website for information on how you can help Journey by donating.