This is an archived article and the information in the article may be outdated. Please look at the time stamp on the story to see when it was last updated.
Two wildfires within 10 miles of each other were burning in San Bernardino County Saturday, officials said.
About 85 acres have burned in a blaze in the San Bernardino National Forest near Running Springs.
The so-called Dollar Fire was first reported about 1:30 p.m. off Highway 330 and Old City Creek Road. As of 7:30 p.m. the blaze was 40 percent contained, forest officials tweeted.
Mostly chaparral is burning, according to the incident information page on the blaze.
San Bernardino National Forest officials are in command of the incident and several helicopters and fixed-wing aircraft are also on scene. CalFire is also assisting in the blaze, officials tweeted.
Highway 330 remains open and no evacuations have been ordered.
Weather conditions in the area are being described as warm and dry.
Firefighters are also battling another blaze about 7 miles away near Piedmont Drive and Siene Avenue in Highland, according to InciWeb. About 15 to 20 acres has burned in the Seine Fire.
Video from the scene showed flames near homes in the area.
One family said police came knocking on their door while the hills behind their yard were engulfed and asked them to leave.
"The lucky part of this fire is that we had air tankers circling the Dollar Fire. They moved right over to this fire and they dropped on it right away and slowed it down," said Michael Wakoski, with San Bernardino County Fire Department.
He added several other fires have burned in that area this summer and that the circumstances of the Seine Fire are under investigation.
A family who was grateful for firefighters efforts in slowing down the blaze brought crews several pizzas to say thanks.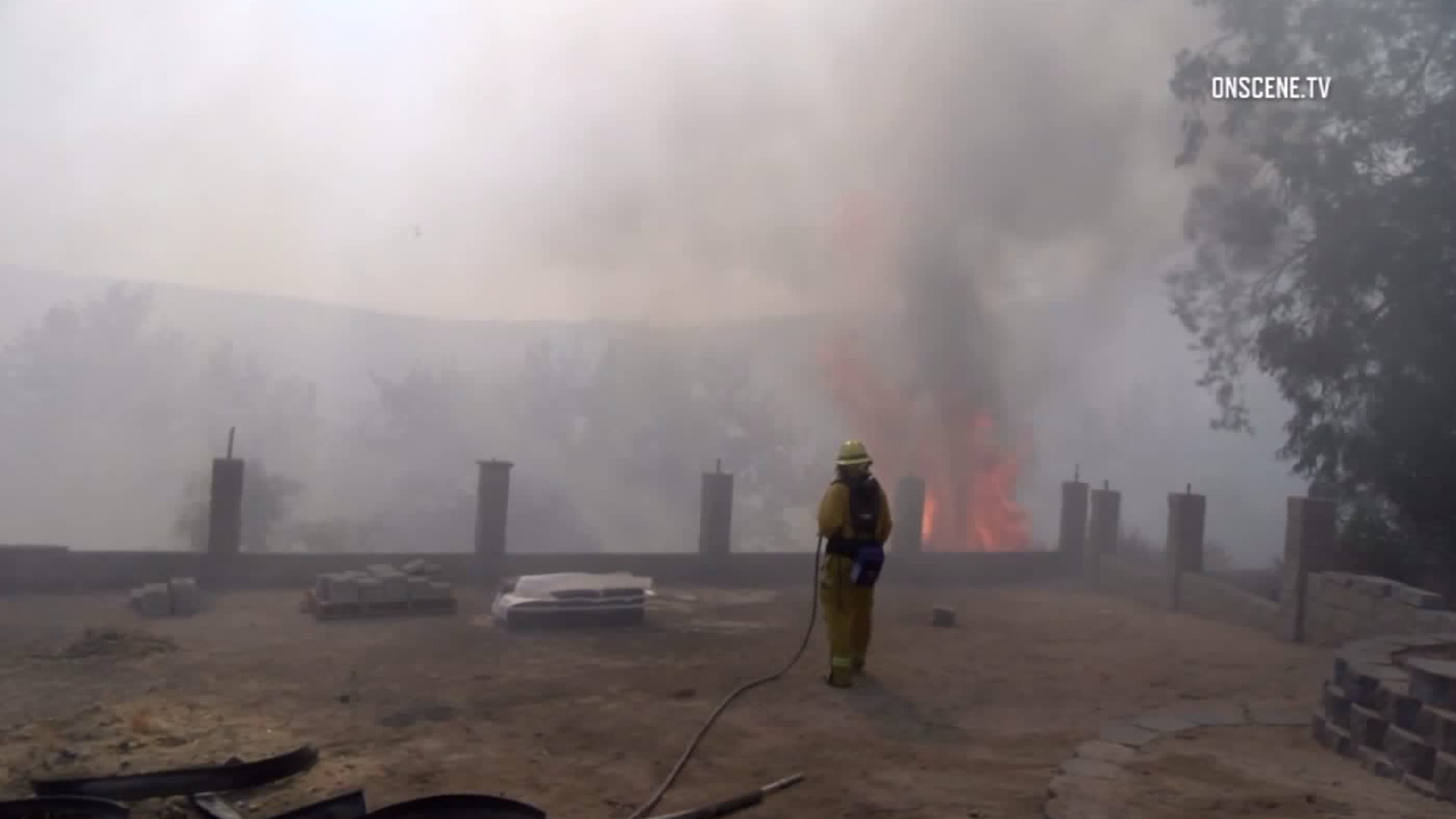 #DollarFire firefighters making good progress 85 acres, 40% contained @SBCOUNTYFIRE

— San Bernardino National Forest (@SanBernardinoNF) July 23, 2017
BDF #DollarFire off Hwy 330 near the midddle passing lane. @epn564 @SanBernardinoNF #BDF #wildland #wildlandfirefi… https://t.co/RwrAExuuR9 pic.twitter.com/PRnKtjXyv8

— 564FIRE (@564FIREPhoto) July 22, 2017
Trying to get home but the #dollarfire is in the way. pic.twitter.com/ezL0NiDEWv

— Rob-O (@RMMR1010) July 22, 2017