This is an archived article and the information in the article may be outdated. Please look at the time stamp on the story to see when it was last updated.
About 50 people in a party bus were detained after a person was robbed at a CVS Pharmacy in Seal Beach, officials said Sunday.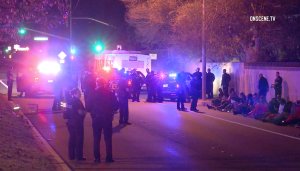 The incident occurred about 11:25 p.m. at the store located at 921 Pacific Coast Highway.
The victim told Seal Beach police officers that several people got out of a party bus, surrounded him and began hitting him. The robbers then took his property and ran from the area, police said.
Witnesses saw the party bus head north along PCH and officers eventually caught up to it.
Police said that about 50 people were detained, but the exact number is unclear. Investigators are working to determine exactly how many people detained were involved in the robbery.
Officers from the Long Beach, Huntington Beach, Cypress and Los Alamitos police departments assisted with detaining those on the bus.
The victim, who does not work at the pharmacy, did not appear to be targeted. Sgt. Michael Henderson told KTLA that the incident appeared to be random and may have stemmed from some sort of altercation.
He added that there was minor vandalism at the store. The Orange County Register reported that at least two display cases were knocked over at the front of the store.
It is unclear if the victim suffered any injuries.
The party bus may have been heading "back to Los Angeles," Henderson said.
Video from the scene showed several people being held at gunpoint and placed in handcuffs. Some were led off the bus with their hands up, and some were placed on the floor, video showed.
The incident remains under investigation and any one with information can call Detective Jeff Gibson at 562-799-4100 ext. 1109.