This is an archived article and the information in the article may be outdated. Please look at the time stamp on the story to see when it was last updated.
When Los Angeles hosted the 1984 Olympic Games, few stories were more satisfying for the hometown crowd than Paul Gonzales' triumph in boxing. The oldest of eight children raised by a single mother in a Boyle Heights housing project, the 20-year-old light flyweight beat gang violence, poverty and a last-minute broken hand to take gold.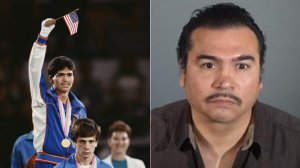 As the national anthem played, Gonzales, the first Mexican American to win a gold medal, clenched a small American flag in his bandaged fist and fought back tears.
"Ten years of struggle, pain and I'm here," he told broadcaster Howard Cosell.
Many on the Eastside and beyond saw their own lives in Gonzales' hard-won victory, and even after his boxing career faltered, he remained an inspirational figure. The man sometimes called "the prince of the barrio" was regularly invited to give motivational speeches to schoolchildren, and a fading mural of him in boxing trunks adorned an East L.A. wall.
Read the full story on LATimes.com.