This is an archived article and the information in the article may be outdated. Please look at the time stamp on the story to see when it was last updated.
Two convicted sex offenders accused of raping and killing four women in Orange County while wearing their required GPS monitoring devices made their first court appearance in Santa Ana Tuesday, when police asked for help identifying a possible fifth victim.
Steven Dean Gordon, 45, and Franc Cano, 27, appeared at a morning hearing where cameras were not permitted. They were handcuffed to opposite ends of a cage in which they appeared at the Orange County Men's Jail in Santa Ana. Their arraignment was continued to a future date.
Both men were arrested Friday night following a murder investigation, Anaheim police Lt. Bob Dunn said.
Their four alleged victims were identified as: Jarrae Nykkole Estepp, 21, of Oklahoma; Kianna Jackson, 20, of Las Vegas; Josephine Monique Vargas, 34, of Santa Ana; and Martha Anaya, 28, also of Santa Ana.
The cases were linked together after Estepp's nude body was found on a conveyor belt at an Anaheim recycling plant on March 14.
On Tuesday evening, the Anaheim Police Department asked for help identifying a possible fifth victim. She was described as a petite African-American woman in her early 20s who was last seen between Feb. 14 and Feb 16 near Katella and Orangewood avenues, or on Beach Boulevard north of Katella Avenue.
"She likely checked into a local motel and did not check out, leaving behind her belongings," the news release stated.
The woman may have had multiple tattoos and ties to Compton, according to police, who have distributed flyers seeking to find the woman.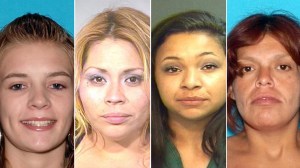 Other than Estepp, none of the other victims who Gordon and Cano allegedly raped and killed have been found. Asked why authorities are certain the women were killed, Larry Yellin of the Orange County District Attorney's Office responded that the case was "complicated."
"It's really the conglomeration of all the evidence put together," Yellin said Tuesday. "Law enforcement yesterday spoke with confidence about them having been murdered, and so are we. We wouldn't file murder charges if we weren't."
Outside the courtroom Tuesday, Estepp's mother expressed outrage that the two convicted sex offenders were able to associate with each other. She said the men's required GPS ankle bracelets should have alerted authorities to their activities.
"There's no excuse, no reason that the state can give me why these two men were even able to be around each other long enough to commit murder," said Jodi Pier-Estepp.
She said her daughter had a "beautiful soul" and made an impression wherever she went.
Following the discovery of Estepp's body, homicide detectives from the Santa Ana Police Department who had been investigating the case of three missing women contacted Anaheim investigators, according to a joint news release from the Anaheim and Santa Ana police departments.
Jackson, Vargas and Anaya were all reported missing between October 2013 and November 2013, according to the release.
Gordon and Cano were charged Monday with four felony counts each of both special circumstances murder and forcible rape, according to Orange County District Attorney Tony Rackauckas. 
The special circumstance sentencing enhancements included murder in the commission of rape, multiple murders, and lying in wait, a news release from Rackauckas' office stated.
Cano and Gordon could face life in prison or the death penalty if convicted, Rackauckas said.
About three years ago, the two men cut off their ankle bracelets and fled to Las Vegas together, court records show. They were arrested after having failed to register in Nevada as sex offenders.
In response to media questions about the GPS monitoring, the California Department of Corrections and Rehabilitation issued a statement on Cano and Gordon on Tuesday, saying the monitors cannot detect crimes.
"GPS monitors are not designed to alert us when one sex offender comes into contact with another," the statement read. "Since offenders must often attend the same counseling classes, substance abuse treatment programs, or live in areas that are far from schools and parks, sex offenders often come into contact with each other."
"Determined criminals will go to great lengths to commit crimes and we cannot blame our crime-fighting tools for criminals' actions," the statement concluded.
Cano was on active parole since a 2008 sentence of three years for lewd acts with a child under 14, according to the state corrections department. He was released to parole in October 2009.
Gordon was on federal probation. He received a three-year sentence in 1992 for lewd acts with a child under 14, then a concurrent 10- and five-year sentence for kidnapping in 2002. He was released in 2010 and discharged from parole on Nov. 9, 2013, according to the state.
Anyone with information about the cases was asked to contact Orange County Crime Stoppers at 855-847-6227 or visit occrimestoppers.org.
KTLA's Chip Yost, Melissa Pamer and Tracy Bloom contributed to this report.