This is an archived article and the information in the article may be outdated. Please look at the time stamp on the story to see when it was last updated.
An actively moving landslide continued to threaten a three-story house nestled atop a hill in Malibu Wednesday evening, but Los Angeles County fire officials said the risk is "very small" that the home itself will fall into the canyon below.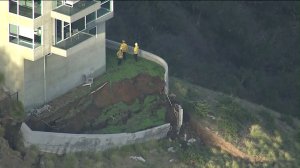 Crews were called out to the 2800 block of Hume Road after dispatchers received a report of a landslide at approximately 3:46 p.m., Los Angeles County Fire Department Inspector Randall Wright said. There was concern it could affect the multimillion-dollar home.
Firefighters responded to the scene, where they discovered that an approximately 40-by-20-foot section of earth had given way under the expansive home's patio section, Wright said.
The house is situated on a large hill, with the ground area near the landslide sloping downward into a steep canyon. Sky5 aerial video showed mounds of dirt moving forward and against what appeared to be a concrete wall along the perimeter of the home.
A section of retaining wall meant to prevent the ground from shifting appeared to have been knocked over, the footage showed. A closer view of the sliding mounds of dirt reveals cracks, from which the soil could be seen breaking and slipping down.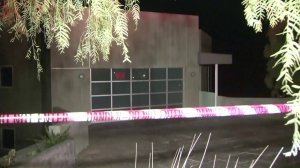 Investigators said they found a large amount of water near the property, although it was unclear if that was from the recent rain, sprinklers or some other source. Sheriff's deputies and building and safety inspectors are trying to determine the cause of the landslide and assess if anyone else is at risk.
A sign outside the 3,100-square-foot home indicated the structure was red-tagged, and striped tape warned people to stay away from the residence.
The owners were not home at the time, according to authorities.
Wright said there is a "very small risk" that the home will fall; there are no other houses in the canyon below, he added.
"This is something we take very seriously, we've learned from our partners up in Santa Barbara County. So that's why we have such a large response of other agencies, other eyes, other experts that will know even more about this," Wright said. "We built that into our entire game plan. And it's something we'll know more throughout the night."
Hume Road was shut down as crews worked to handle the situation.
Correction: An earlier version of this article misstated the number of firefighters that responded. The figure has been removed from the story.