This is an archived article and the information in the article may be outdated. Please look at the time stamp on the story to see when it was last updated.
A man involved in a standoff Tuesday morning in the Harbor Gateway neighborhood of Los Angeles allegedly shot and killed his mother before turning the gun on himself.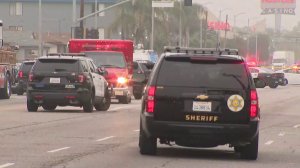 The events occurred at a home in the 15400 block of South Orchard Avenue, Los Angeles County Sheriff's Department Sgt. Plair confirmed.
At about 5:30 a.m. , the incident was described by Plair as an active shooter situation concerning an assault with a deadly weapon suspect.
The gunman was apparently barricaded in the home, Plair said later.
About an hour later, a man believed to be about 25-years-old was taken into custody, Los Angeles Police Department Officer Lomeli said.
The suspect, who has not been identified, had apparently shot himself before he was taken into custody, LAPD spokesman Frank Preciado said.
Video from the scene showed Los Angeles Fire Department personnel treating the man, whose condition was unknown.
Investigators believe the gunman shot and killed a woman in her 50s, later determined to be the suspect's mother, before shooting himself, Preciado said.
The shooting and barricade took place at the same location where a fire broke out and was reported at about 4:30 a.m.
Firefighters extinguished the blaze in the two-story home in about 12 minutes, Fire Department spokeswoman Amy Bastman stated in a news alert.
The cause of the fire was under investigation.
KTLA's Alexandria Hernandez contributed to this report.