This is an archived article and the information in the article may be outdated. Please look at the time stamp on the story to see when it was last updated.
The Santa Monica-Venice branch of the NAACP on Thursday called for a swift investigation into the arrest of a man who was pepper-sprayed and restrained by Santa Monica police officers while he charged his electric car in a city park.
Justin Palmer, 36, was at the public car-charging station at Virginia Avenue Park (map) on the evening of April 21 when he was approached by officers who said the park had closed at 11 p.m.
Palmer refused to leave, according to police, who issued him a citation for violating the park closure ordinance. He also refused to provide his identification, a Santa Monica Police Department news release stated two days after the incident.
Palmer said he told officers it was not yet 11 p.m. and asked why they needed his identification since he had done nothing wrong.
Then, abruptly, he was swept off his feet and fell head-first, hitting the side of his head and briefly blacking out, Palmer told KTLA on Monday.
He "actively resisted" arrest, police said, prompting them to restrain and pepper-spray him. After being taken to jail, he was hospitalized and "medically cleared," according to police.
Thirteen days later, the Santa Monica City Attorney's Office announced that no charges would be filed against Palmer.
According to a statement from the office, the decision to decline to file charges was influenced in part by the fact that signs at the front of the park did not clearly indicate the parking lot was subject to park hours, and "a question concerning when Mr. Palmer arrived in the parking lot and when officers made their initial contact with him."
Police records indicate he was arrested at 10:54 p.m., Palmer said.
Palmer, a married father of four girls who lives in Santa Monica near the park where he was arrested, has filed a claim against police and plans to file a federal civil rights lawsuit as well.
The city was in the process of evaluating Palmer's May 8 claim, according to a news release issued by Santa Monica on Thursday, the same day that community activists and the Santa Monica-Venice branch of the NAACP held a news conference to call for a "fast-track investigation."
"This act of excessive force points towards racial profiling that has become a central concern as other residents that are not African American have said they have never been approached by SMPD for charging their vehicles after 11:00 p.m. at Virginia Avenue Park," the branch said in a statement.
A woman who shot cellphone video of Palmer's arrest, Wendy Zaw, said Thursday it still makes her emotional every time she sees it.
She yelled out to tell police not to punch Palmer, she said.
"Please help us to stop this," Zaw said Thursday at the NAACP news conference.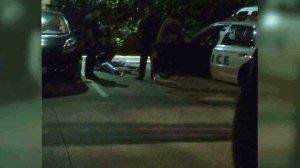 Zaw called Palmer's wife, Christine Gonzales-Palmer, after the arrest. Gonzales-Palmer said Monday that, in light of recent high-profile instances of police violence, she feared the worst.
"She told me that she had seen my husband get assaulted in the park by police officers," Gonzales-Palmer said. "So immediately, I thought he was dead."
Though his client is black, Palmer's attorney, Justin Sanders, said Monday that the case is not about race but rather shows that "this can happen to anybody, no matter what your station in life is."
The city manager and chief of police planned to meet next week with concerned community members.
"The City of Santa Monica and its Police Department are committed to fostering long term relationships with our diverse community," the city's statement said.