This is an archived article and the information in the article may be outdated. Please look at the time stamp on the story to see when it was last updated.
Actor Danny Trejo is moving from the big screen to the kitchen for his latest project, the highly anticipated Trejo's Tacos, which recently opened in the Mid-Wilshire area of Los Angeles.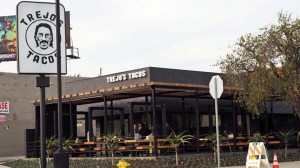 Trejo, who is perhaps best known for role in movies such "Machete" and "From Dusk Till Dawn," discussed his new business venture and his love of food in an interview with KTLA on Thursday morning.
"My daughter calls me a foodie. 'Oh, my tough dad is a foodie,'" he said, laughing.
The taqueria, on La Brea Avenue near Olympic Boulevard, is a collaboration between Trejo, film producer Ash Shah and Jeff Georgino.
By opening Trejo's Tacos, the actor is fulfilling a dream his mother had of owning a restaurant. Growing up, she had always discussed the idea, but never pursued it because "my mom and dad came from the era where the woman stayed at home … and the man worked," he said.
"This was just a dream," Trejo continued. "And when I met Ash … we were talking about food, and I love food."
Trejo's Tacos came to fruition in 2015 and opened this month.
The menu features a selection of vegan and vegetarian-friendly options, as well as gluten-free dishes, the actor said.
Initial taco offerings on the March menu include beef brisket, slow roasted pork shoulder, fried Jidori chicken and black pepper tofu.
"You can throw a dart at our menu and get a great taco," he told the Los Angeles Times back in January.
There is also an array of appetizers, sides and deserts, as well as a date-infused horchata, aguas frescas and Trejo's own coffee blend to drink.
The chef incorporated some of Trejo's mother's recipes into the menu, with some modifications.
"I grew up in a Mexican home, there wasn't too much gluten-free in there," he said, noting that when he told the chef that her recipes called for lard, the response was, 'We don't use lard anymore, Danny!'"
The food is fresh – "Nothing is kept overnight" – and the leftovers get donated to a local homeless shelter, he told the Times.
The sign on Trejo's Tacos features an image of the actor. He addressed earlier reports that he initially wanted a machete to be featured on it as well.
"Me and the machete are, there — what do you call it — there's a character brand. That's a brand. Danny Trejo is me … So I fool them, I don't hold a machete, I hold a meat cleaver," he told KTLA.
When asked if he would be doing any cooking, the actor responded with a laugh, "You know what, I'll say hello to people."
The taqueria has already received accolades, having topped Los Angeles Magazine's weekly list of "Hot 'n' Fresh L.A. Restaurants" on March 11.
Trejo's Tacos is located at 1048 South La Brea Avenue. It is open Monday through Sunday from 11 a.m. to 4 p.m.