This is an archived article and the information in the article may be outdated. Please look at the time stamp on the story to see when it was last updated.
Jamie Foxx helped rescue a man from a burning vehicle following a crash in the Thousand Oaks area, the actor's representatives confirmed Tuesday.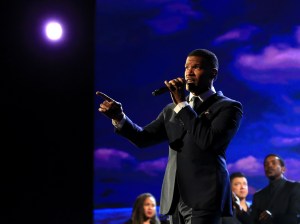 A 32-year-old man was driving at a high rate of speed westbound on West Potrero Road, east of Hidden Valley Road, around 8:30 p.m. Monday when the incident occurred, according to the California Highway Patrol. The incident occurred in the Hidden Valley area, south of Thousand Oaks.
The driver, Brett Kyle of Newbury Park, "left the roadway" and traveled into a drainage ditch, striking a drainage pipe and concrete casing, a CHP incident report stated.
The 2007 Toyota Tacoma rolled over multiple times and became engulfed in flames with Kyle still inside.
Two witnesses then ran to the burning vehicle, and attempted to free the driver.
One witness retrieved a "rescue tool" from his vehicle, allowing the pair to break a window, cut the seat belt and extricate Kyle, CHP said.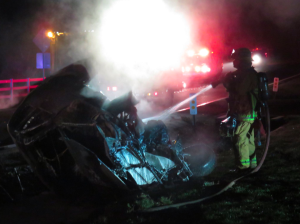 Foxx — known for his roles in "Django Unchained" and his Oscar-winning performance in "Ray" — aided in the rescue, his representatives said. It was not immediately known what his exact role was.
The driver was  transported to Los Robles Hospital and Medical Center and arrested for allegedly driving under the influence, CHP said.
CHP officials could not confirm Foxx's involvement.
Foxx in 2007 purchased a 40-acre property near the site of the crash for $10.5 million, the Los Angeles Times reported at the time.